Heat-resistant, multi-purpose appliance holder with 3 electrical outlets.
Holds 1 blow-dryer with up to a 2-1/4" diameter nozzle.
Holds 2 irons with up to a 1-1/4" diameter.
Clamps on countertop edge or can be fastened to wall.
Steel construction with black finish. 6 ft. power cord.
Includes mounting hardware, 2 Velcro fasteners, and a clamp.
11"W x 4-1/2"H x 3-1/2"D.
Hair Tool Organizer with Power Strip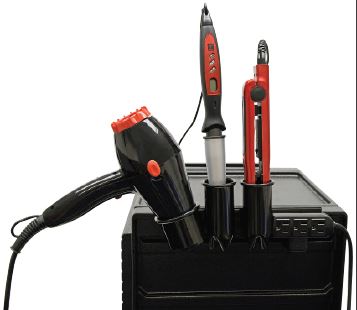 $40